The Champions League is back, FC Bayern are in town, and the Red Dragons will be hosting their traditional party at their pub of choice, the Bavarian Beerhouse in Old Street. Not far from the Emirates stadium this will be the biggest event on matchday for fellow FC Bayern supporters. This time special decorations, dressed up hostesses and a drinks special will await you. Snacks and nibbles will be available, as well as Augustiner Beer! All guests will be guided to the Emirates, and there will be three big screens at the Bavarian Beerhouse for everybody without a match ticket!

Informationen in Deutsch
The EVENT is SOLD OUT!
At a glance
Location
Bavarian Beerhouse, 190 City Rd, London, EC1V 2QH
Nearest Tube Station: Old Street
Times
Party: 07 March 2017 – Arsenal vs Bayern
Warm Up Party: 12:30 GMT
After Party: ca. 23:00 until at least 03:00
Transfer to Stadium: ca. 16:15 (Overground: Old Street -> Highbury / Islington) (Google Maps)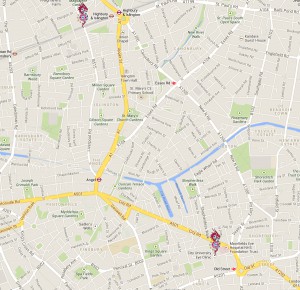 Optional: Members without valid entry ticket to the stadium can watch the match live on three big screens (Please email us for reservations).
Bavarian Beerhouse
The pub can host 350 people and they have food and drinks available. There will be a Schnitzel menu on the day and cold nibbles in the evening. The Beerhouse will serve Erdinger, Krombacher, Bitburger as well as Jägermeister, Redbull and Kleiner Feigling. A limited stock will of Augustiner will be available, too.
Important Information
Buy your train ticket in advance (Group or single tickets available on TFL website)
Bavarian Beerhouse reserves the right to expel overly drunken guests
Smoking inside the premises is not allowed
This is a closed event for ticket holders only
Participation in the event at own risk. Neither Red Dragons nor organiser Bavarian Beerhouse will assume any risk
Have fun and celebrate FC Bayern
Red White Greetings,
Red Dragons London