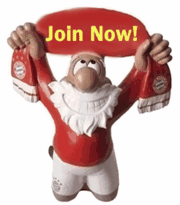 Benefits for all members
As a member of the Red Dragons London, you will get the chance to watch every game live with genuine FC Bayern supporters, in our small and atmospheric corner of Munich in the city of London. Joining the Red Dragons London is easy – all you need to to is submit your membership fee and online application form, after which you will be awarded the status of "Hatchling" – allowing you to join us at our Stammtisch and participate in club gatherings and events.
Attendance at club events will win you points on our bonus system, allowing you to achieve full member status as a fully fledged "Dragon".
1. Hatchling ("Prospect")
Any supporter of FC Bayern München can apply to become a member at the Red Dragons. All you need to do is to pay the application fee and participate in fan club events.
Benefits
– Watch every game with genuine FC Bayern supporters
– Receive an invitation to every game and event
– Get a guaranteed seat at dedicated table in the Bavarian Beerhouse ("Stammtisch")
– "Jump ahead of the queue" at the Bavarian Beerhouse
– Access to our members only Red Dragons group on Facebook
– Gain points in the Red Dragons bonus system
– Discounted Red Dragons London Scarf
2. Full Membership
Once you have collected fifty points on the Red Dragons bonus system you will become a full member of Red Dragons London. On becoming a full member you will receive the Full Membership Package, which will be awarded to you by the club board at the Stammtisch.
Membership Pack
– Membership Card
– Membership Certificate
– Overview of Most Frequently Chanted Songs
– History Map
– Flyer
– 2 x Red Dragons London Stickers
– Red Dragons London Terms & Conditions + Golden Rules
– Red Dragons London Privacy Policies
Further Benefits
As the Red Dragons London is an official fan club recognised by FC Bayern München, you will also receive a number of additional benefits on becoming a full member:
– ticket inquiries
– Personal self-registration at FC Bayern München as Red Dragons Member*
– 10% discount in official fan-shop
– No admin fee in fan shop or for home ticket orders
– Free tours of the Allianz Arena
Red Dragons Membership Terms
New Joiners Fee 20 GBP
Recurring Fee 7.50 GBP every 6 months
Guests** at the Stammtisch are always welcome! However, since seats are limited we members should encourage their guests to feed Seppl das Schwein, who can be found on one of the tables during Stammtisch events. Reservation is absolutely required so that the team can plan ahead. Guests are expected not to be in colours belonging to other clubs.
Please note that Red Dragons London is subject to receive tickets upon the discretion of FC Bayern for members only. Tickets are usually limited and we cannot provide tickets to non-members.
No matter if you attend the Stammtisch or if you leave with us to attend a match, we will in any case expect you to respect our Fairplay Rules and Terms and Conditions.
For more information on membership terms please do send us an email or visit us on Facebook. If you like to notify us about your visit or if you like to bring a guest, please send an email or call 07791 992277.
* Registration as a fan club member at FC Bayern does not constitute a membership of FC Bayern. You will have to apply for this separately, should you wish.
** Please note that if you like to bring guests, you have to let us know at least four days in advance.