The board are the people who work hard behind the scenes – and sometimes at the forefront with our raucous singing – to keep the Red Dragons and our lair in good order and voice. There is our Thorsten our Chairman, Rick our resident statistician and Greg our enthusiastic "Capo". Together, our German Chairman and his British and Polish lieutenants represent and reflect the status of the Red Dragons London as a truly international fan club of FC Bayern München.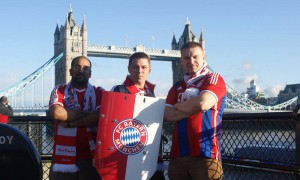 Every week you will find at least one of the board at our Stammtisch at the Bavarian Beerhouse, making sure that the tables and walls are all appropriately decked out in Rot-Weiß!
Meet the Board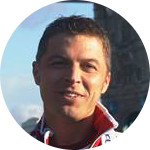 Thorsten Lamberty
Chairman
Responsible for strategy, finance, events, social media and marketing.
Thorsten is a German national and a Bayern fan with heart and soul. When he arrived in London there was no FCB fanclub but he noted plenty of individuals cheering for Bayern. Founding Red Dragons London back in 2013 only seemed a logical consequence. Ever since the official foundation he has been growing and nurturing the fanclub. By now the Red Dragons are the largest assembly of Bayern supporters in the United Kingdom.
His regular posts and images about FCB on Red Dragons' Facebook and Twitter pages have found its way into German TV, radio as well as print media and have been featured by FC Bayern München.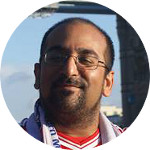 Rick Joshua
Member of the Board
Responsible for website administration, editorial content and match reporting.
A follower of FC Bayern for over thirty years, Rick is arguably one of the longest-serving British-born fans of Munich's finest – becoming a firm fan of the Münch'ner back in the summer of 1981 when nearly everybody else was supporting Liverpool. As well as his work for the Red Dragons Rick runs the encyclopaedic Schwarz und Weiß website on the German national team, and as a statistician and analyst also writes for a number of other football blogs.
Rick also has probably one of the largest collections of FC Bayern Trikots this side of the North Sea, so you'll probably see him in a different one every week over the course of an entire season.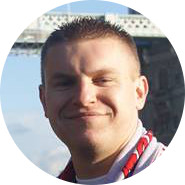 Grzegorz "Greg" Jaszowski
Member of the Board
Responsible for organisational matters, member administration and bonus system.
Greg comes from south west of Poland and has lived in London since May 2013. As young boy he was given a Jancker 19 Trikot by his brother and he loved the colours. His first memorable Bayern game was the 1999 Champions' League final against Manchester United, and the images of Sammy Kuffour pounding the ground and crying would go straight to his heart.
For a number of years Greg has supported Bayern pretty much on his own, in country where German clubs weren't too popular back in those days. After arriving in London he started looking for something with Bayern – a German pub or restaurant – and he found the Red Dragons. He happily joined in January 2014 and keeps on rocking!